In this issue:
Parsons Marsh Accessible Trail Opening • Take in the View • Summer Fun Day, Heritage Hikes and More! • October Save-the-Dates • Volunteer Couple Extraordinaire • 2018 Berkshire Bioblitz • Taconic Hiking Club
JOIN US to celebrate the opening of the new accessible trail at
Parsons Marsh in Lenox.
Music, Kid's Activities, Hikes and Walks, Cider Press, and Cider Donuts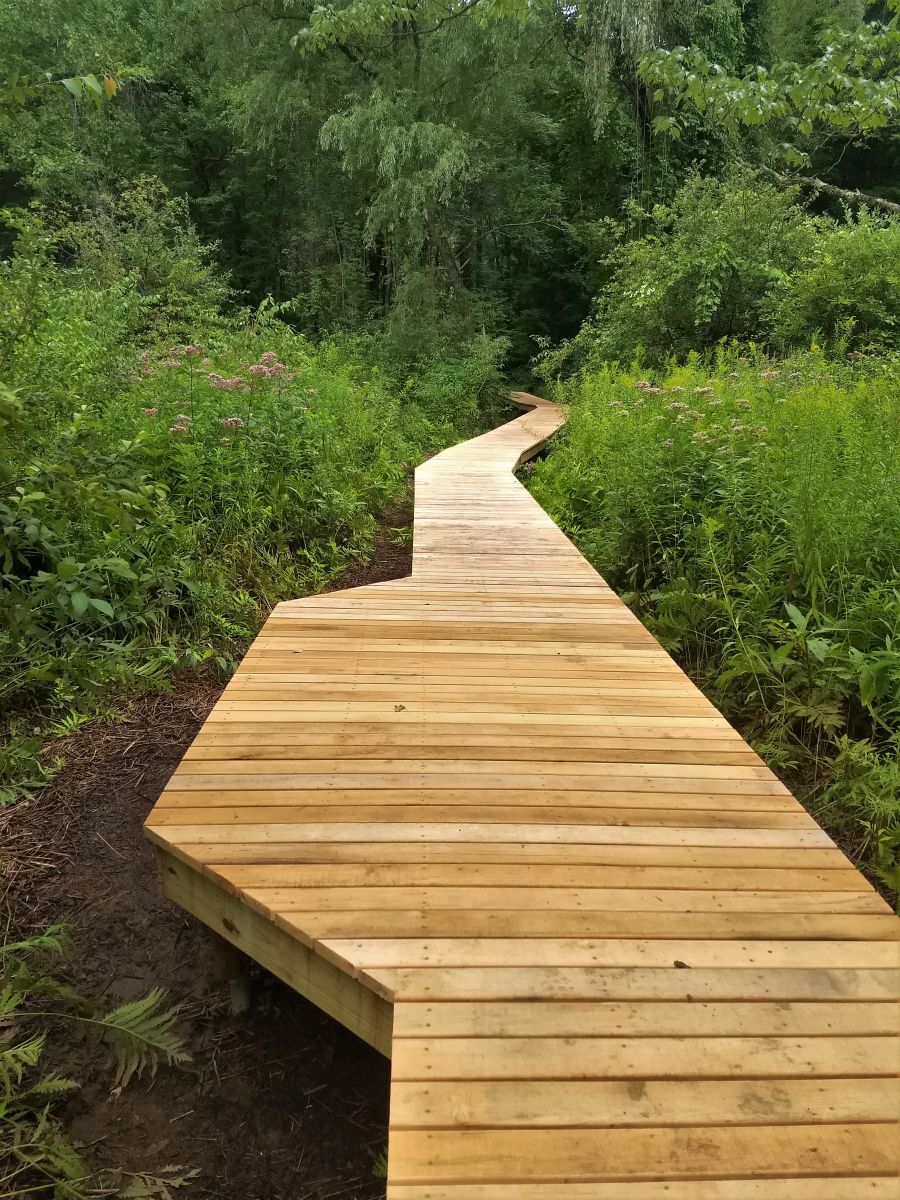 Saturday, September 15th (9:00 am – Noon)
_____________________________________________
Event Schedule
9:00 a.m. Bird Walk
10:00 a.m. Music, Kid's Crafts
10:30 a.m. Ribbon Cutting
10:45 a.m. Music, Cider Press, Kid's Activities, Walk the Trail
_____________________________________________
Parking: Stonover Farm's Event Parking Lot, across from 169 Undermountain Road, Lenox, MA 01240. Carpooling and walking encouraged!
Free event! All are welcome!
This is a cooperative trail project between Berkshire Natural Resources Council, the Town of Lenox through its Community Preservation Fund, and the Massachusetts Recreational Trails Program, also supported by the Lenox Land Trust.
Congdon Bench at Hollow Fields
By John Keenum, President of Richmond Land Trust
If you need a break after the first steep pitch on the path leading to Perry's Peak at Hollow Fields in Richmond, there is now a bench, sited to give a panoramic view across the valley to Yokun Ridge. The bench was donated in memory of Stephen Congdon by his children and placed there by the Richmond Land Trust. In talking about fond memories of her father, Eleanor Congdon mentioned family hikes to the summit of Perry's Peak, and the idea of a bench to encourage hikers to stop for a moment to appreciate the beauty of the site emerged as an appropriate memorial.
The location of the bench provides a destination for those who are not planning to go to the summit. It is just below the point where the trail splits, giving hikers the option of going into the woods or continuing through the fields. You can rest on your way up and decide on which path to follow or stop on your way down for a final breather before your descent to the parking lot.
September Hikes and Events
For hike and event details/difficulty/directions, click on the name of the hike, visit www.bnrc.org/upcoming-hikes, or email Mariah at mauman@bnrc.org.

Housatonic Heritage Hike on the Old Mill Trail, Hinsdale
Saturday, September 8, 9:00 am – 12:00 pm
Join a pleasant walk with Dennis Regan, from the Housatonic Valley Association, along the Housatonic River on the Old Mill Trail, which follows the remnants of an early mill operation that once powered a thriving woolen mill.
Parsons Marsh Trail Opening
Saturday, September 15, 9:00 am – 12:00 pm
JOIN US to celebrate the opening of the new accessible trail at Parsons Marsh in Lenox.
Music, Kid's Activities, Hikes and Walks, Cider Press, Cider Donuts
Save the Date – October Hikes and Events
Volunteer Highlight: Jon and Jackie
Have you visited Basin Pond or Bob's Way? The trails are well blazed and well kept thanks to Jon and Jackie Elliott. They began volunteering with BNRC in 2005. When asked about a favorite property they replied, "We started as trail stewards at Bob's Way and Basin Pond so those two have sentimental standing with us… but we think Clam River is great now, too." Jon recalls fighting through micro-bursts and heavy winter downfalls. "Nothing beats working hard on a section and then looking back when you're all done and seeing the results. I always picture someone hiking along and seeing the work that was done."
Giving back has always been a big theme for this power couple. "We tried to raise our sons in that tradition, too," said Jon. "When they skied cross-country in high school I began volunteering at Notchview where so many races were held. I felt it was important to give back to a place that provided so much enjoyment for us. That got me started and I began focusing on properties closer to home with BNRC after that. I had always respected BNRC since the days of George Wislocki, and it was an honor to support them in a hands-on way."
If you encounter these two on the trail, you'll certainly leave with a smile! Their love for the natural world and ethic of stewardship toward the land emanates to everyone they come across.
Jon and Jackie, thank you for your continued support in keeping the trails open for all!
2018 Berkshire Bioblitz
A Conservation Themed Weekend in the Berkshires
After joining us for the Parsons Marsh Trail Opening, head north to the Berkshire Bioblitz!
Where: Hopkins Memorial Forest at Williams College
When: Saturday through Sunday September 15-16 from 12 noon on Saturday to 12 noon on Sunday
This year's event co-sponsored by Dr. Augie's Science Education Programs and Berkshire Environmental Action Team (BEAT).
What is a Bioblitz? The BioBlitz is an opportunity for biologists, naturalists and environmentalists to work in collaboration with the general public to gather in a specific area in a 24-hour period to complete a formal survey of all living species. This provides information about the biodiversity of the area, and the importance of a healthy, active ecosystem in their own community.
Click here for more information.
Save the Club Campaign
By Karen Ross
If you love the outdoors and access to recreational opportunities along the Taconic Range, please consider joining the Taconic Hiking Club. If you've ever hiked through the Pittsfield State Forest, over Berlin Mountain, to the Snow Hole in Petersburg or along some of the Shaker Trails above Lebanon Mountain, you've seen the bright blue triangles that mark the Taconic Crest Trail.
This Club has been in existence since 1932 and has a strong legacy of trail advocacy at the state and local level, of maintaining 37 miles of the Taconic Crest Trail and 5 of its access trails, of protecting and securing parking and trail access, and of offering seasonal outings all year long. It runs a well-attended and supported biennial End-to-End hike over 29 miles of the trail from Berry Pond to Vermont. Over the years the Club has provided social opportunities and has published two series of professional-level maps of the trail. Members have volunteered hundreds of hours of trail clearing, blazing, and marking and have turned out in force to keep the trail motor-free and free of irresponsible logging.
The Club is facing a crisis with not enough volunteers to carry on the work of the organization.
The Club needs new members. It needs to grow to be viable and continue the good work it does. By joining you help solidify the membership base and give recognition to the Club's mission and purpose.
Here is the link to the Taconic Hiking Club: http://taconichikingclub.org/
Please join. We now have a member who has stepped forward with this Challenge: if we can get 20 new members he will offer to manage the 2020 End-To-End hike! Dues are minimal at $10.00. No activity is required, but you might want to order that map and check out the trail on some beautiful fall day.
BNRC's trails, guided hikes and properties are free and open to the public,
thanks to the generosity of our supporters.
Please be a supporter. Click HERE.
Donations to BNRC, a 501(c)(3) organization, are tax-deductible to the extent allowed by law.
__________________________________________
If you go on your own, be sure to print or download a map from BNRC's full property list.
Wrap up your summer right with a visit to Steadman Pond.
Photo Credit: Gabrielle K. Murphy
To find out more about BNRC, go to www.bnrc.org
and visit us on

and
(@berkshirelandkeepers).