100% Walkable. 100% Berkshires.
A network of trails and conservation land throughout the Berkshires, The High Road will bring together the finest features of the region: mountains, streams, forests, farms, and fields, along with villages, cafes, and cultural attractions.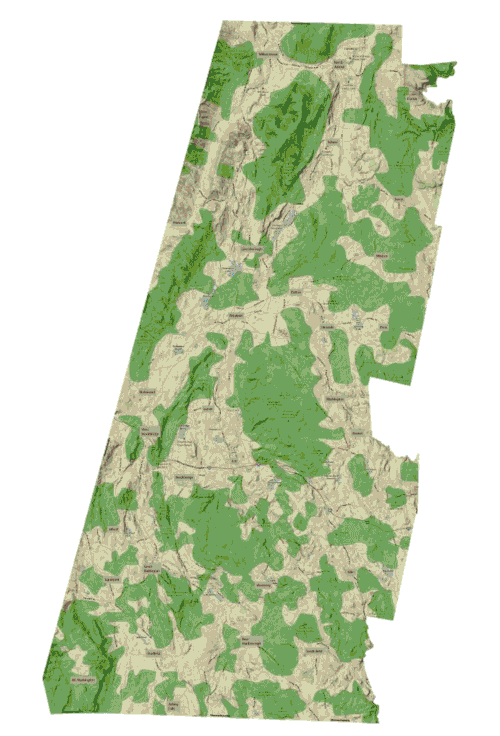 BNRC is working with partners to open the first segment of The High Road in 2020-21: an eight-mile path along Yokun Ridge, which stretches from Pittsfield to Stockbridge. Segments in North Berkshire and South Berkshire are in progress too, and should open by 2023.
Inspired by the Coast to Coast Walk in England and the Camino de Santiago in Spain, The High Road will eventually be a continuous network offering many options of terrain, starting points, and length of walk, from 30 minutes, to a week or more. It connects village and city centers to each other and to conservation areas, so everyone can walk into town from somewhere else, or walk out of town directly into nature.
The High Road is for recreation, but it's for the benefit of nature too: it will preserve biological diversity, natural habitat, and wildlife travel corridors within the crucial Northern Appalachian/Acadian region of the eastern U.S. and Canada. In an era of climate change, creating and protecting these connections is crucial.
Ultimately, The High Road will be another extraordinary feature of the Berkshires, adding to the region's beloved appeal. It will support non-motorized outdoor recreation of all kinds, and help promote small businesses that serve visitors and residents alike. It will protect special landscapes, from mountaintop to riverfront, farms to forests, while linking ecology to economics.
Founders of The High Road
Between 2015 and 2018, approximately 1,000 BNRC supporters collectively donated over $5 million to begin making this vision a reality. Though significant additional funding will be needed for decades to come, this dream became possible because of these generous High Road founders. The real work of planning specific routes began in 2018, and is well underway.
High Road Routes In Progress
Right now BNRC is actively creating three large High Road routes:
Connections between Pittsfield, Lenox, Richmond, and West Stockbridge

Linked trails from West Stockbridge, through Housatonic, and into Great Barrington

Route options from Dalton northward through North Adams, into Williamstown
BNRC staff and trained volunteers are walking possible connecting routes—trails, woods roads, farm roads, back roads—to evaluate them for quality of experience, ecological impact, and conservation feasibility. This information is used by BNRC staff and its Board of Directors to plan routes that have local support, include desirable destinations, have available funding, helpful partners, link town centers, and have high conservation and recreation value.
Building The High Road is a complex task. Some of the things we're doing now include:
Working closely with conservation partners such as towns, state agencies, and other land trusts to plan, develop, and manage trails and routes.

Developing the signage to show visitors where to go, who owns the land (when it's not BNRC) and what uses are permitted.

Repairing old degraded social trails and building brand new trail to be sustainable for a generation.

Acquiring key parcels to connect larger conservation areas, and working with landowners to create the trail easements that will allow people to cross private property.

Creating the infrastructure such as parking areas for safe access to trailheads.

Ensuring that there is a variety of High Road trail experiences including rugged climbs and fully accessible paths so all can have the experience they would enjoy most.
All this work can be summarized into three related, ongoing efforts: expanding protected wildlife habitat, linking trail systems, and connecting those contiguous lands and routes to downtown centers.
There's an App, Too
Donors made it possible to create the BNRC Berkshire Trails app. It's free, and you can use it now. The app was built with an eventual complete High Road in mind. Already, the app is useful for planning short outings and day-long Berkshire adventures. Download it now in the App store of your choosing.
Want to Help?
Have you already been thinking about placing land you own into permanent conservation? Or does that idea appeal to you? Please take a look at Options for Preserving Your Land, BNRC's informational booklet that outlines the process. Then, if appropriate, contact Narain Schroeder or Mackenzie Greer at BNRC for a conversation.
As mentioned above, volunteers help evaluate potential routes, assist on group workdays to build trail or keep existing trails in top shape, and in some cases, serve as monitors and stewards for an entire conservation property. Here's more info on how to volunteer. Or contact Mariah Auman at BNRC.
Donations matter immensely. You can make an unrestricted donation to BNRC, to support the people and the work that are making The High Road a reality. It is also possible to designate a special gift for a High Road purpose, make plans in your estate or trust for the future of the Berkshires, or use stock or required distributions to support The High Road in tax-advantaged ways. Contact Rich Montone at BNRC to learn more.
Thank you for your interest in The High Road. As we work together to make this dream a reality, all current BNRC reserves remain open every day of the year, for free, thanks to donors and volunteers. See you out there!