The High Road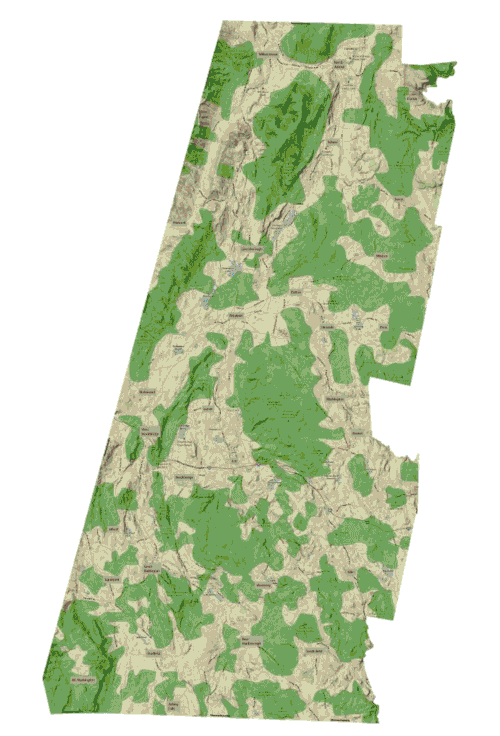 The High Road will be an extraordinary feature of the Berkshires, adding to the region's appeal by connecting towns to towns, and towns to trails. Primarily a recreational route for hikers, The High Road will support and complement many types of outdoor recreation and help promote local businesses that serve visitors and residents. Routes will be developed in collaboration with BNRC and land partners' efforts to protect special landscapes, from mountaintop to riverfront, farms to forests.  
BNRC is developing a strategic conservation plan to preserve biological diversity, natural habitat, and wildlife travel corridors within our region—part of the ecologically significant Northern Appalachian/Acadian region of the eastern U.S. and Canada. In an era of climate change, creating and protecting these connections is crucial. These efforts will work together to ensure that recreational routes are sited appropriately to protect sensitive habitat, so hikers can explore the ecology of the Berkshires in sustainable ways.  
The High Road Interviews, BNRC
Yokun Ridge and Connecting Trails 
BNRC and its partners opened the first segment of The High Road in 2021. This eight-mile path along Yokun Ridge, connecting trails from Pittsfield to Lenox, provides hikers with an opportunity to explore a scenic and ecologically diverse woodland. This route links the properties of five landowners who together conserve and steward over 5,000 acres along this ridgeline. BNRC worked with these landowner partners to transform what was a tangled network of social trails into a clear and consistent hiking route for the public. Featuring three scenic vistas, expansive woodlands, stone and water features, the Yokun Ridge Trail offers a special way to travel through divers
Work is underway to expand The High Road trail network. As it evolves, it will offer many varieties of terrain, starting points, and route options along trail corridors through woodlands and into towns and villages.  
Founders of The High Road 
Between 2015 and 2022, approximately 1,000 BNRC supporters collectively donated over $5 million to begin making this vision a reality. Though significant additional funding will be needed as the project unfolds over the next few decades, this dream became possible because of these generous High Road founders.  
There's an App, Too 
Donors made it possible to create the BNRC Berkshire Trails app. It's free, and you can use it now. The app was built with an eventual complete High Road in mind. Already, the app is useful for planning short outings and day-long Berkshire adventures. Download it now from the app store of your choosing. 
Want to Help? 
Have you already been thinking about placing land you own into permanent conservation?  Please take a look at Options for Preserving Your Land, BNRC's informational booklet that outlines the process. Then, if appropriate, contact Beth Mills, Director of Conservation at BNRC to learn more. 
Volunteers help evaluate potential routes, assist with the building and maintenance of trails, and in some cases, serve as monitors and stewards for BNRC's conservation reserves. For information on how to volunteer, contact Mariah Fogg, Community Conservation Manager, or visit our volunteer page. 
Donations matter immensely. You can make an unrestricted donation to BNRC, to support the people and the work that are making The High Road a reality. It is also possible to designate a special gift for a High Road purpose, make plans in your estate or trust for the future of the Berkshires, or use stock or required distributions to support The High Road in tax-advantaged ways. Contact Rich Montone at BNRC to learn more. 
Thank you for your interest in The High Road. As we work together to make this dream a reality, all current BNRC reserves remain open every day of the year, for free, thanks to donors and volunteers. See you out there!